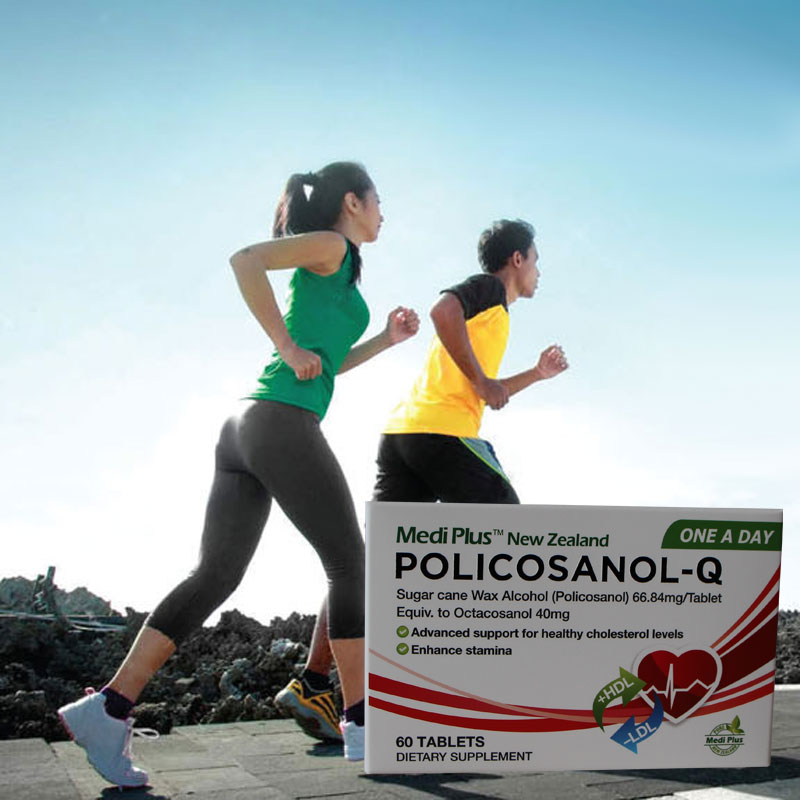 MEDI PLUS Policosanol-Q
MEDI PLUS Policosanol-Q may support healthy circulation and cholesterol levels and might help to improve exercise performance including strength, stamina. And also policosanol seems to decrease cholesterol production in the liver and to increase the break down of LDL (low-density lipoprotein or "bad") cholesterol. It also decreases the stickiness of particles in the blood known as platelets, which might help reduce blood clots.
Fourmulation
Main Ingredients (Each capsule contains)
Policosanol (Sugar Cane Wax) 66.8mg
Equivalent to Octacosanol 40mg
Zinc Oxide 11.4mg
Direction for use (Recommended Dosage)
Adult: Take one capsule with a meal or as professionally prescribed.
Indication for use
Support for health cholesterol levels
Enhance stamina
Precautions
During pregnancyand breast-feeding should check with their doctor before using this product.
Bleeding disorders: Policosanol can slow blood clotting and might increase the chance of bleeding in people with bleeding disorders.
Surgery: Policosanol can slow blood clotting. There is a concern that it might increase the chance of extra bleeding during and after surgery. Stop using policosanol at least 2 weeks before a scheduled surgery.
Contraindications (Store)
STORE IN A COOL DRY PLACE, BELOW 30C AND AVOID DIRECT SUNLIGHT.
KEEP OUT OF REACH OF CHILDREN.
DO NOT USE IF BLISTER SEAL IS BROKEN.
Manufactured for:
Medi Plus NZ Ltd
PO BOX 12452, Penrose, Auckland, New Zealand
20 Cain Rd, Penrose, Auckland, New Zealand
WEB: www.mediplusnz.com
EMAIL: mediplusnz@hotmail.com
This product manufactured at a GMP certified site.
(Manufactured by GMP Pharmaceuticals Ltd)